Letter:Viviane Reding's Office
TRANSLATION INTO ENGLISH
Ref. Ares (2011) 195216 - 22/02/2011

 
EUROPEAN COMMISSION
Office of the Vice-President Viviane Reding
Justice, Rights and Citizenship
Chief of Staff
Brussels, 21 February 2011
Mr. Didier Bertin
Dear Sir,
The Vice-President of the European Commission, Viviane Reding, has received your letter dated January 26, 2011 and thank you.
The report of the European Commission of 22 December 2010 on "The memory of the crimes committed by totalitarian regimes in Europe '* highlights the diversity of the laws of Member States in this field. Member States have adopted different measures according to their history and their national circumstances. Even among those Member States which have suffered the same kind of totalitarian regime, instruments adopted and steps taken can be very different.

Given this disparity and limited powers of the European Union in this field, the European Commission considers that the conditions for legislative action in these areas does not currently exist.

In its report, the European Commission also stresses the importance for the Union to contribute, within its competence, to promote the memory of the crimes committed by totalitarian regimes in Europe. The European Commission considers it important to fill gaps in knowledge of the totalitarian past of all Member States, notably as regards the period during which Western Europe and Eastern Europe have had two different experiences.

Sincerely

Martin SELMAYR
Our Comment:
We think that the Charter of European Union is a binding document in the field of Ethics, duly  signed by each member- Hower the task of the Coucil is not easy taking into account the strong residual nationalism of members. Members should understand that EU is no more a simple economic association.
Didier Bertin
FRENCH COPY
Ref. Ares(2011)195216 - 22/02/2011
COMMISSION EUROPÉENNE
Cabinet de la Vice-présidente Viviane Reding
Justice, droits fondamentaux et citoyenneté
Le Chef de Cabinet
 Bruxelles, le 21 février 2011
Monsieur Didier BERTIN
Monsieur,
La Vice-présidente de la Commission européenne, Madame Viviane Reding, a bien reçu votre courrier du 26 janvier 2011 et vous en remercie.
Le rapport de la Commission européenne du 22 décembre 2010 sur "La mémoire des crimes commis par les régimes totalitaires en Europe"'* souligne la diversité des législations des Etats membres dans ce domaine. Les États membres ont adopté des mesures différentes en fonction de leur histoire et de leurs particularités nationales. Même parmi les États membres qui ont subi le même type de régime totalitaire, les instruments et mesures retenus peuvent être très différents.
Compte tenu de cette disparité et des compétences limitées de l'Union européenne dans ce domaine, la Commission européenne considère que les conditions pour une action législative dans ces domaines ne sont actuellement pas réunies.
Dans son rapport, la Commission européenne souligne aussi l'importance pour l'Union de contribuer, dans les limites de ses compétences, à la promotion de la mémoire des crimes commis par les régimes totalitaires en Europe. La Commission européenne considère qu'il importe de combler les lacunes en matière de connaissance du passé totalitaire de tous les États membres, notamment en ce qui concerne la période durant laquelle l'Europe de l'Ouest et l'Europe de l'Est ont vécu deux expériences différentes.
Je vous prie d'agréer, Monsieur, l'expression des mes salutations distinguées.
Martin SELMAYR
Notre Commentaire:
Nous pensons que la Charte Europénne qui illustre la morale europénne, est un document contractuel qui lie les parties qui l'ont dûment signée.Nous comprenons toutefois que la CommissionEuropéenne ait des difficultés avec les membres qui conservent une forte volonté nationaliste et qui ne comprennent pas que l'UE  doit être plus qu'une simple association économique.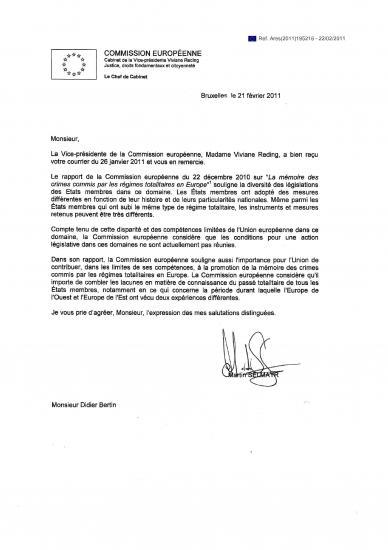 Dernière mise à jour de cette page le 26/02/2011