Révisionnisme historique en Lituanie
SIGNIFICATION DE LA CONFERENCE DES 28 ET 29 juin 2011 ORGANISÉE PAR LE
 PARLEMENT LITUANIEN «SEIMAS» ET PAR LE CENTRE LITUANIEN DE
RECHERCHE SUR LA RESISTANCE ET LE GÉNOCIDE
Didier BERTIN - 19 Juillet 2011 
I-OBJECTIF DE LA CONFÉRENCE  
Le Parlement lituanien et le Centre de Recherche sur la résistance et le génocide subventionné par l'Etat lithuanien qui compte parmi ses dirigeants l'organisateur du défilé nazi annuel dûment autorisé le Jour de l'indépendance  à Vilnius.
Le thème officiel de la conférence était le 70e anniversaire de la guerre entre l'Allemagne et l'URSS sans tenir compte du conflit dans le reste du monde. La Lituanie se prétend victimes d'une guerre qu'elle n'a pas souhaitée ce qui est le cas de tous les Etats qui n'étaient pas alliés à l'Allemagne mais cela est volontairement écarté.
L'idée conductrice est d'assimiler l'URSS et l'Allemagne en oubliant le reste de la Guerre et la violents Pogroms qui ont eu lieu au cours de cette année en profitant du retrait de l'armée rouge
Pour la Lituanie la Guerre n'est qu'un conflit idéologique entre l'Allemagne et l'URSS qu'elle a dû subir malgré elle.
La Lituanie semble se réfugier dans l'autisme et oublie la dimension mondiale du conflit.
La présentation est une véritable logorrhée indigeste dans laquelle on parle on ne parle que de la guerre entre ces deux Etats centrée sur les problèmes de la Lituanie en évitant de mentionner la participation de ce pays à la Shoah et aux exactions de ses milices et d'une partie de sa population. 
Le problème est que ce détournement historique a eu lieu au sein du Parlement d'un État membre de l'Union européenne avec la participation de députés et de hauts fonctionnaires.
 La conférence a été présentée par Irena Degutenia, députée, qui avait félicité les réalisateurs  d'un film glorifiant le Front activiste lituanien - LAF, une milice, qui a pris une part importante dans les pogroms de Juin 1941 et qui a collaboré avec les nazis. 
La collaboration avec les Nazis peut être considérée comme de la résistance en Lituanie et en Lettonie, il s'agit en fait d'une prétendue résistance antirusse. 
Lituanie comme la Lettonie, la Hongrie et la Roumanie ne se sentent pas obligées d'appliquer les règles de base de la philosophie européenne, d'autant plus que les autorités européennes réagissent rarement en matière d'Ethique.
La condamnation de la France pour son comportement vis-à-vis de Roms est une exception qui confirme la règle. L'argument habituel qu'il appartient à chaque Etat de faire respecter les règles ne peut pas s'appliquer lorsque c'est l'Etat lui-même qui ne respecte pas les règles. 
Nous pouvons voir dans le programme des conférences et des déclarations faites lors de cette conférence que la Lituanie a refusé d'affronter la réalité de son action que l'Allemagne a eu le courage de le faire. 
Le premier fait historique évident est qu'aucun acte de résistance n'a eu lieu en juin 1941 puisque les milices et une partie de la population ont attendu d'abord que l'Armée rouge se retire des villes en raison de l'avance allemande et ont profité du de la période entre le départ des Russes et de l'arrivée des allemands pour commencer les pires Pogrom de l'Histoire de l'Europe de l'Est. 
Les troupes allemandes ont été accueillies comme des libérateurs. Le Dr Joachim Tauber, participant allemand à la Conférence a  mentionné cet accueil enthousiaste de la population. 
Cette préférence pour les nazis perdure pour  une partie de la population aujourd'hui tel que cela est illustré par le rituel défilé nazi le jour de l'indépendance et devenu possible depuis la fin de l'ère communiste.
De même qu'en  Lettonie on honore tous les ans la mémoire des lettons engagés dans les Waffen SS au cours de la journée dite des  légionnaires. 
Il n'ya pas eu à notre connaissance de protestation de la Commission européenne à propos de ces évènements. 
Cette orientation idéologique est également visible dans de nombreux musées de Lituanie et en particulier dans le musée du génocide, qui exclut l'Holocauste de son domaine d'intérêt et dans le musée du camp de concentration neuvième Fort (voir ci-dessous). 
 
II-MILICES ET POGROMS 
Comme nous l'avons mentionné des milices ont profité du retrait de l'armée rtouge pour se livrer à des massacres des populations juive. 
Il s'agit du LAF- « Lietuvos Aktyvistų Frontas  Front Activiste Lithuanien et du groupe paramilitaire d'Algirdas Klimaitis soutenus par une partie de la population.(voir photos) 
Du 25 Juin to 29 Juin 1941, 5 000 Juifs ont été battus à mort dans la ville de Kaunas et ses environs et d'autres massacres moins importants ont lei dans d'autres villes. 
Les principaux lieux d'exactions ont été le Garage Lietukis et les 7e et 9e forts (ligne de forts construits autours de Kaunas).
Parmi les exactions de 1941 il faut noter celles du Sonderkommando de Joachim Hamann,et de l'Einsatzkommando 3 qui avec le concours des résistants lituanines les Lituaniens ont massacré 9 200 juifs de Kaunas dans la seule journée du 29 Octobre 1941 : 2 007 hommes,    2 920 femmes et 4273 enfants dans le 9e Fort. 
Le 9 Juillet dernier le monument de Ponar, lieu où ont été massacrées 100 000 personnes dont 70 000 juifs a été profané par les héritiers de ces résistants. Ils ont écrit sur le monument "Hitler avait raison" en langue russe et peint une croix gammée. 
La population juive lituanienne a été massacrée à hauteur de 96% qui est le plus fort taux d'extermination en Europe soit196 000 personnes sur 205 000 .Cette action a été facilitée par les collaborateurs lituaniens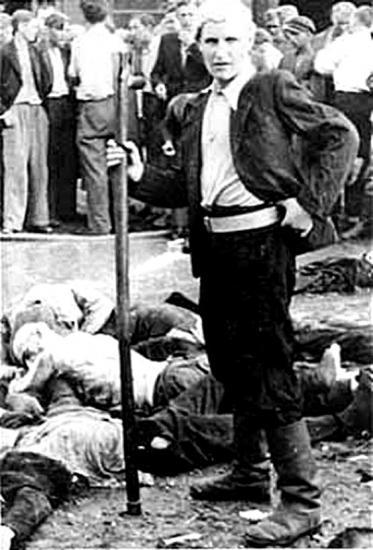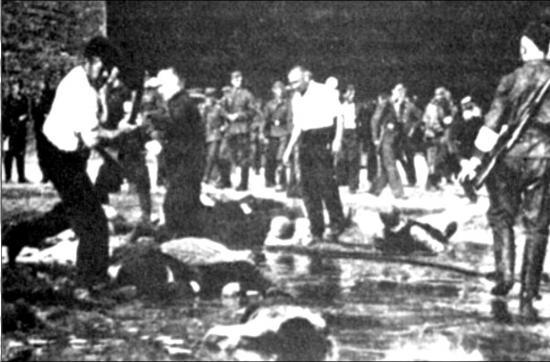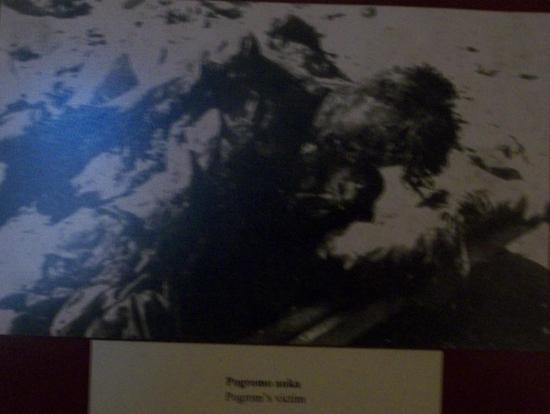 III-LES PRINCIPALE VICTIMES DE LA PÉRIODE DE NAZIE SELON LE MUSEE DU
 9EME FORT - ILLUSTRATION DE LA STRATÉGIE D'OBFUSCATION
Quarante-six intellectuels lituaniens ont été déportés vers le camp de Stutthof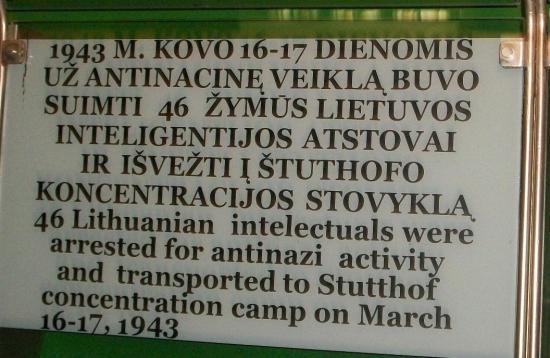 Seize journalistes lituaniens ont été déportés vers le camp de Stutthof.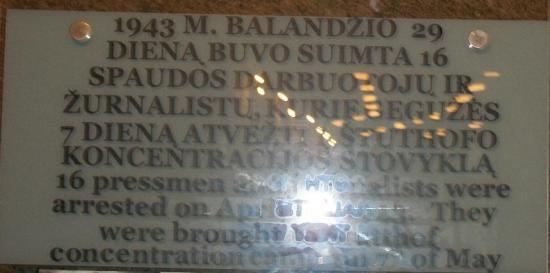 Les indications concernant l'Holocauste sont très difficiles à voir et ont  un espace très limité dans ce musée qui est pourtant le vestibule d'entrée au camp de concentration du 9e Fort. 
IV-DOCUMENT ILLUSTRANT LA COLLABORATION ENTRE L'ALLEMAGNE ET
LES LITUANIENS
RAPPORT EN LANGUE LITUANIENNE DE LA SECTTION SS ET DE POLICE DESTINES A DES LITUANIENS - LES DOCUMENTS INTERNES ALLEMANDS ETANT ECRIT EN ALLEMAND.
Traduction: 
Date: 26 Décembre 1943 
Cette information est donnée en complément du Radiogramme:  
59 Juifs dont 2 femmes et 3 bandits se sont échappés (du 9e Fort) 
Description des deux femmes :  
1-40 ans, brune, vêtue d'une veste de mouton et probablement d'un pantalon d'homme. Elle a une dent sur la mâchoire supérieure. 
2-25 ans, taille moyenne, portant un foulard bleu et des chaussures noires 
Description des hommes
16 hommes portant des uniformes prisonniers de guerre sales avec une apparence typique de Juifs. 
L'un d'eux a 60 ans et porte une barbe; 
Un autre nommé Blum est originaire de Varsovie, et vivait à Kaunas, c'est est un comptable marié avec une polonaise et a un enfant de 12 mois. 
Les trois bandits sont les frères de Karganovsi de Kuniskes en Russie:
Arseni 31 ans , Makari 28 ans et Vassili 21ans 
Tous les autres fugitifs ont entre 20 et 60 ans "et ont une odeur spécifique". 
Ils pourraient porter des uniformes allemands et tenteraient de fuir en direction des hauteurs de la Russie. 
Nous vous enverrons un autre rapport sur les 59 Juifs et sur les trois bandits.
Tous les services de police doivent  être informés immédiatement et se mettre à leur recherche 
Signé : Le Commandant de la Police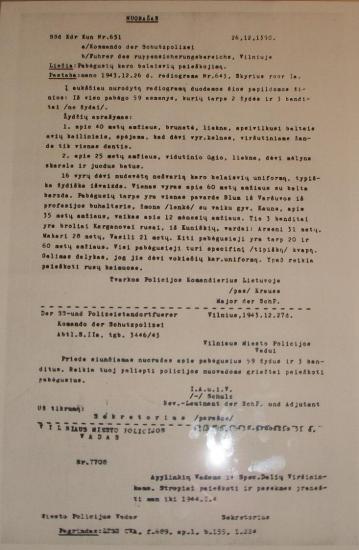 V-LA SITUATION DES JUIFS DE LITUANIE EATAIT SI PRECAIRE QU'UN
DIPLOMATE JAPONAIS- RECONNU COMME JUSTE -  LES A AIDE A FUIR DES 1940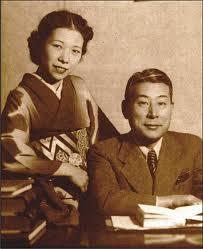 La situation très précaire des Juifs en Lituanie était si précaire que le Consul Général du Japon à Kaunas Chiune Sugihara a permis à 6000 juifs de fuir le pays.
Du 31 Juillet, 1940 au 4 Septembre 1940 (date de fermeture du consulat), lorsque le Consulat du Japon à Kaunas a été fermé, Chiune Sugihara avec l'aide de son épouse a émis contre les ordres de sa hiérarchie plusieurs milliers de visas de transit de 10 jours pour le Japon et organisé leur transport avec les autorités russes. Du Japon les Juifs ont pu gagner Shanghai et l'Australie.
Il travaillait 20 heures par jour pour délivrer le maximum de visas écrit à la main et a continué à en émettre le jour de son départ dans le train en jetant par la fenêtre aux réfugiés des documents vierges avec le sceau du consulat du Japon.
VI-CONFERENCE
The Conference is dedicated to the Year of Remembrance of Defense of Freedom and Great Losses and the victims of occupation, terror and the war between the totalitarian regimes.
 Opening: 29 June 2011, 10:00 a.m.
 Venue:  Seimas of the Republic of Lithuania, Vilnius
Type: political, scientific, commemorative
Participating states: Belarus, Estonia, Germany, Israel, Latvia, Lithuania, Poland, Russia, Sweden, and USA
Conference participants: Famous eye-witnesses to historical events, historians, political scientists, NGOs, communities, history teachers, foreign diplomats, students, and journalists Languages: Lithuanian, English, Russian  
PROGRAMME
Wednesday, 29 June 2011
March 11 Hall
Mr Algis Kašėta, Member of the Seimas
of the Republic of Lithuania
Dr Arūnas Bubnys, Director, Genocide and Resistance Research Department, Genocide and Resistance Research Centre of Lithuania
10.00-10.40 
Opening
Welcome by Mrs Irena Degutienė, Speaker of the Seimas
Welcome by Prof Vytautas Landsbergis, Speaker of the Supreme Council – Reconstituent Seimas, Signatory to the Independence Act of Lithuania, MEP
10.40-11.00 
Vengeance of retreat: Soviet war crimes in Lithuania at the end of June 1941
Speaker: Ms Birutė Teresė Burauskaitė, Director General, Genocide and Resistance Research Centre of Lithuania
11.00-11.20 
Beginning of the Soviet genocide: 1939-1941
Speaker: Mr Arimantas Dumčius, Member of the Seimas of the Republic of Lithuania
11.20-11.40 
"Lithuania's residents were very friendly towards us." Reports on the Wehrmacht march from the German army newspapers
Speaker: Dr Joachim Tauber, Director, Institute for Culture and History of Germans in North-East Europe, Lüneburg, Germany
11.40-12.00 
June Uprising of 1941 in Lithuania
Speaker: Mr Alfredas Rukšėnas, Chief Specialist-Programme Coordinator, Genocide and Resistance Research Centre of Lithuania
12.00-12.20 
How Lithuania's provisional government saw political opportunities for Lithuanians?
Report of Dr Kęstutis Ignas Skrupskelis, Professor Emeritus of the University of South Carolina, USA, read out by journalist Mr Vidmantas Valiušaitis
12.30-13.40  
Mr Arvydas Anušauskas, Chairman of the Seimas Committee on National Security and Defence
Mr Algirdas Jakubčionis, Associate Professor, Faculty of History, Vilnius University
13.40-14.00 
The1941 – Nazi propaganda in the BalticStates: forms, methods, and tendencies
Speaker: Prof Dr Julija Kantor, Herzen State Pedagogical University of Russia, Sankt Petersburg
14.00-14.20 
Belarus in 1941: occupation, collaboration and resistance
Speaker: Dr Jevgenij Greben, Associate Professor, Head of the Philosophy and History Department, Belarusian State Agrarian Technical University in Minsk, Belarus
14.20-14.40 
Activities of the alleged and true German spies
in Latvia from June to July 1941
Speaker: Dr Ritvars Jansons, Researcher, Museum
of the Occupation of Latvia in Riga, Latvia
14.40-15.00 
Establishment of governmental authorities in Estonia at the start of the Nazi occupation in 1941
Speaker: Dr Meelis Maripuu, Research Fellow, Estonian Institute of Historical Memory, Estonia
15.00-15.20
PARTICIPATION CANCELLED PARTICIPATION CANCELLED
Collaborator: traitor, patriot or killer? Reflectionsoncollaboration
Speaker: Dr Aharon Shneyer, Senior staffmemberHallof Names Yad Vashem Holocaust Memorial in Jerusalem, Israel
15.20-16.00
PARTICIPATION CANCELLED PARTICIPATION CANCELLED
Thursday,30 June 2011
Conference Hall
Prof Juozas Skirius, Faculty of History, Vilnius Pedagogical University
Mr Arūnas Streikus, Associate Professor, Faculty of History, Vilnius University
10.00-10.20 
Deportation of the Lithuanians from the Suvalkai Region in 1941 and their destinies
Speaker: Dr Bronius Makauskas, Chief Specialist-Programme Coordinator, Genocide and Resistance Research Centre of Lithuania
10.20-10.40 
Twists and turns in the history and memory of the 1941 genocide of Lithuania's Jews in view of new investigations, old stereotypes and public discourse
Speaker: Dr Saulius Sužiedėlis, Professor Emeritus of Millersville University, USA
10.40-11.00 
Lithuanian press during the first months of the Nazi occupation
Speaker: Mr Antanas Leparskas, Student of Doctoral Studies, Department of Modern History, Faculty of History, Vilnius University
11.00-11.40 
Prof Zenonas Butkus, Faculty of History, Vilnius University
Mr Povilas Jakučionis, Chairman, Lithuanian Union of Political Prisoners and Deportees
11.40-12.00 
Restoration of Lithuania's statehood in the international sphere in 1941-1945: Lithuanian political projections and diplomatic speculations
Speaker: Dr Algimantas Kasparavičius, Associate Professor, Senior Research Fellow, Lithuanian Institute of History
12.00-12.20 
Standpoint of the Swedish government towards
the Baltic States' statehood in 1940-1941
Speaker: Mr Jonas Öhman, translator and documentary firm producer, from Sweden
12.20-12.40 
Nazi and Soviet crimes: challenges for understanding and evaluating
Speaker: Mr Ronaldas Račinskas, Executive Director, Secretariat of the International Commission for the Evaluation of the Crimes of the Nazi and Soviet Regimes in Lithuania
12.40-14.00
VII - CONFERENCE REPORT BY PROFESSOR DOVID KATZ –
EDITOR OF  http://holocaustinthebaltics.com
This report may be also seen with the following links of the above mentioned Site
DAY 1 of Conference
http://holocaustinthebaltics.com/first-day-of-lithuanian-parliament-conference-is-a-delirium-of-obfuscation/18423
DAY 2 of conference
http://holocaustinthebaltics.com/the-denial-that-is-part-of-holocaust-obfuscation-second-day-of-the-lithuanian-parliament%e2%80%99s-conference/18494
<SPAN style="FONT-FAMILY: times new roman,times; FONT-SIZE: large" _mce_style="font-family: times