GLORIFICATION OF THE WAFFEN SS IN LATVIA IN 2011
After the traditional Nazi parade in Vilnius on March 11, the ritual
pro-Waffen SS demonstration in Riga on 16 March
with the
participation of members of the Latvian Parliament
Complement to my note of May 9, 2011
Who are the supporters of the trivial equivalence between Nazism and Communism initiated by the Prague process?
-Those who want the obfuscation of the Holocaust
-Those who continue to support the former collaboration
This trivial equation between red and brown is yet regarded with respect by the European Commission.
On 16 March the memory of Latvian Waffen SS has been honored by approximately 3,000 people including members of the Riga Latvian Parliament. Wreaths were laid in their honor at the Monument to freedom under the protection of the Latvian police official.
This event is recurring and authorized as the "Day of the Legionaries."
Photo showing Dzintars Rasnacs and Raivis Dzintars, members of Parliament at the
ceremony in honor of the Waffen SS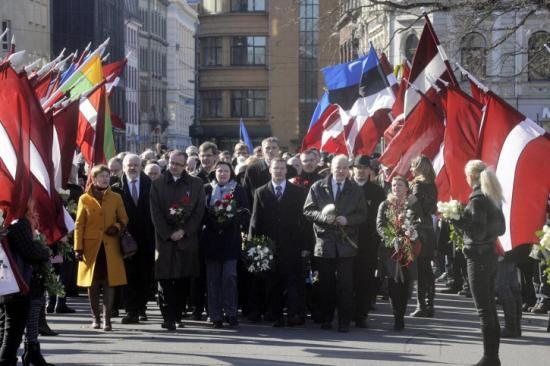 Dzintars Rasnacs

Raivis Dzintars
Under the protection of the Latvian police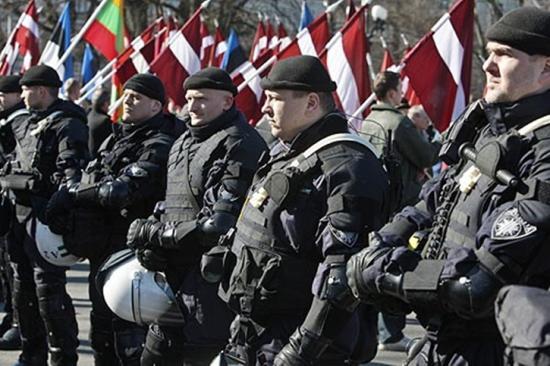 3,000 participants (Riga Population: 700,000)
We invite you to support the statement which will be soon proposed to protect the Ethics of the European Union against the current offensive in Brussels and led by Baltic countries and other Eastern countries members of the European Union.
Didier BERTIN
17 June 2011