APPENDICES 7-11/14 English
APPENDIX 7
REPORT ON NAZI INFILTRATION
IN LITHUANIA TODAY
By Didier BERTIN - 16 MARCH 2011
Society for the Promotion of the European Human Rights Model
It appears that people have decided to maintain alive the legacy of Nazi ideology in many counties. This is unfortunately a well known phenomenon; nevertheless when State bodies of a Member–State of the European Union are utilized by the Nazis to insidiously instill their revisionist view of History in the European Union and this is the case in Lithuania, we think that our duty is to warn the National and European authorities. All these events may lead us to think that the Prague Process as it is expressed, may have suffered partially of these insidious influences, since it might underestimate the crimes of Nazism as compared to Communism, taking into account the leading part played by Lithuania.
I-THE GENOCIDE RESEARCH CENTER AND ITS MUSEUM THE MUSEUM OF GENOCIDE WELCOME A NAZI AMONG THEIR STAFF
The Lithuanian State has created a Genocide research center associated to a Museum called Museum of Genocide excluding the Holocaust and concentrating on Communist regime plight. A Museum of dedicated to communist plight is acceptable except that it utilizes abusively the word genocide and has recently welcome among its staff one of the founders of Nazism renewal, RICARDAS CEKUTIS more precisely in the Staff of the Genocide research Center. He is one of the main organizers of the annual Nazi March in Vilnius.
RICARDAS CEKUTIS was formerly the Parliamentary assistant of the Member of Parliament DALIA KUODYTE. She relieved him after he started to develop the following campaign slogan for the Municipal elections: "Without gays, blacks, reds and camp Gypsies" and was then hired in another State body "THE GENOCIDE RESEARCH CENTER".

RICARDAS CEKUTIS
In addition to the evident etymological disrespect, we may understand now the ideological orientation attempt to pervert the real meaning of the word Genocide.
RICARDAS CEKUTIS collaborates with MINDAUGAS MURZA who tried to get official status for the Lithuanian Nazi party.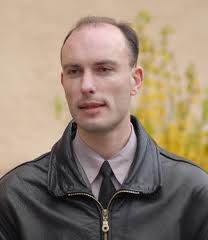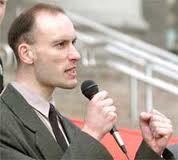 MINDAUGAS MURZA
II-A SUPPORTER OF NAZISM IS A MEMBER OF PARLIAMENT WHO WAS UNTIL HIS EXCULSION IN 2010, A MEMBER OF THE PARTY "TS-LKD" OF THE PRIME MINISTER ANDRIUS KUBILIUS
TS-LKD is shortly and wrongly called Christian Democrats Party –because LKD (Lithuanian Christian Democrats) - was merged with TS (Homeland Union), a Nationalist Party.
KAZIMIERAS UOKA is a Member of Parliament called SEIMAS and was until last year a member of the TS-LKD, he was recently excluded from TS-LKD but remains Member of Parliament. KAZIMIERAS UOKA obtained the official authorization for the Nazi March. KAZIMIERAS UOKA was in the leading group of the last Nazi March of 11 March 2011.
It must be noted that the first Gay pride was authorized in Vilnius in May 2010 despite a last minute attempt to prohibit it again and that KAZIMIERAS UOKA came to insult the participants and crossed over the police line in the direction of the participants until he was stopped by the police.
On 15 March 2011, KAZIMIERAS UOKA had the opportunity to develop his ideology on the National TV channel in an unbalanced debate opposing him with the support of another fascist to a lonesome democrat.   
KAZIMIERAS UOKA
Left picture made by Sebastian Pammer  
III- THE SWASTIKA: A LITHUANIAN NATIONAL AND LEGAL SYMBOL SINCE 2010
As a result of a court decision in 2010, SWASTIKA is now duly authorized to be shown in public in Lithuania. 
Picture made by Sebastian Pammer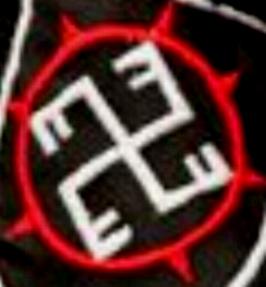 IV-THE DULY AUTHORIZED NAZI PARADES ON THE DAY OF INDEPENDENCE ON THE MAIN STREET OF VILNIUS IS EFFICIENTLY PROTECTED BY THE  STATE POLICE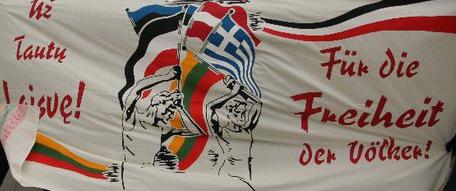 Picture made by Sebastian Pammer - Old Nazi Propaganda shown during the last March in Vilnius
This March has become with the time a usual event of the Lithuanian Independence day.
The Police didi not hesitate to repress physically the opponents to this March.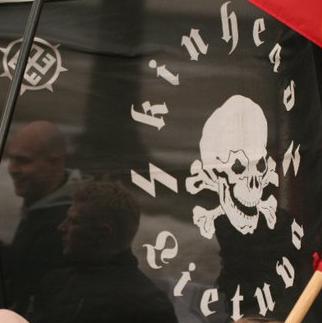 "SS" SYMBOL
Picture made by Sebastian Pammer
 SS Symbol, Swastika and German slogan were widely shown during this March.
Movie on the last March is visible on
http://www.youtube.com/watch?v=c5ulNzcHWsI&feature=player_embedded 
IV- DURING THE POST COMMUNIST ERA: NO JUDGEMENT AGAINST  FORMER LITHUANIAN NAZI WAR CRIMINALS WAS COMPLETED 
The refusal of the Lithuanian prosecutors to punish any local Nazi war criminals, emboldened those ultranationalists who refused to admit Lithuanian complicity in Holocaust crimes.
This situation is shown here below:
At least fifteen Lithuanian Nazi war criminals, who had escaped to the United States after WW2, were stripped of their US citizenship when their past was revealed and returned to Lithuania.
Only three were brought to trial for their Holocaust crimes.
The two most important cases were those of the District of Vilnius:
The Commander of Lithuanian Security Police -the Saugumas-  ALEKSANDRAS LILEIKIS and his deputy KAZYS GIMZAUSKAS were, only prosecuted after they were declared medically unfit to stand trial and thus never appear at their trial and could not be punished.
The third case is also related to a member of the Saugumas of the  district of Vilnius; ALGIMANTAS DAILIDE; he was convicted and sentenced to imprisonment, but the judges refused to implement the sentence because he had to take care of his ailing wife.
APPENDIX  8
STATEMEMENT  MADE BY THE NEO-NAZI LITUANIAN LEADER RICARDAS
CEKUTIS, IN CHARGE OF PUBLIC RELATIONS OF GENOCIDE RESEARCH
 CENTER
Original Text followed by the translation into English
DIENA.lt
Andrejus Žukovskis
a.zukovskis@diena.lt
2011-04-21, 16:19
Svastikos ant Tauro kalno – tolerantiško
jaunimo rankų darbas? [21]
© Muitinės nuotr.
Skaityti komentarus
Papildyti straipsnį
Adolfo Hitlerio 122 gimtadienį Vilniuje šventė Tolerantiško jaunimo sąjunga, o Kaune – žydų bendruomenė. Tuo tvirtai tiki Lietuvių tautinio centro pirmininkas Ričardas Čekutis. Jo nuomone, būtent šios organizacijos iškėlė vėliavas su svastikom ir ištepė sienas užrašais "Juden raus". Pats vyriškis tikino vėliavų su svastikom namuose nesiuvęs, bet kaip šventė A. Hitlerio gimtadienį neatskleidė.
Žada kapoti rankas
Vaikštinėdamas po miestą Ričardas Čekutis nesibodi dėvėti marškinėlių, ant kurių pavaizduotas Antrojo pasaulinio karo metų vokiečių karys žvelgiantis į Vilnių. Bent kokias kitas nacizmo apraiškas vyriškis skuba vadinti provokacijomis. Kalbėdamas jis nors ir valdosi, bet sunkiai kontroliuoja savo retoriką, kuri labiau primena grasinimus, nei normalaus žmogaus svarstymus.
"Manau, kad patys žydai organizuoja visas tas provokacijas. Lietuvos lenkų rinkimų akcija, tie lenkai, kurie niekina kitas tautas, taip pat turėtų atsidurti už įstatymo ribų", – sėdėdamas ant suolelio prie Genocido aukų muziejaus emocingai aiškino Lietuvių tautinio centro (LTC) pirmininkas.
Tai žurnalistu, tai politiku save vadinantis vyriškis kaltino tautinių mažumų ir kovotojų už žmonių teises atstovus neonacių problemos eskalavimu. Jis tikino manąs, kad vėliavas su svastikomis kabina tolerantiško jaunimo atstovai, šitaip bandydami diskredituoti gerą tautininkų ir visų tautinių patriotinių jėgų vardą. R. Čekutis pagrasino, jog tokie dalykai geruoju nesibaigs.
"Mes ne tik nekabinome tų vėliavų, bet ir rankas nukapotume, tiems kurie tai darė", – teigė LTC vadovas ir čia pat paaiškino, kam gi turėtų būti "kapojamos rankos", – "Tai "tolerastai" pakabino vėliavas. Jie tai neigia? Meluoja".
Prisimena tutsius, bet ne žydus
Melagiais buvo išvadinti ir žydai, kurie, pasak R. Čekučio, nuolat riejasi tarpusavyje, daro biznį iš holokausto ir amžinai verkšlena, kad yra skundžiami. Tokie jų žingsniai pašnekovo teigimu, yra "žaidimas su degtukais, sėdint ant parako statinės".
"Piliečių nervai gali neišlaikyti ir tuomet prasilies kraujas. Po to jau sunku bus sustoti. Tai tik kritinės masės susidarymo klausimas. Jeigu valdžia nieko nedarys, padarys piliečiai", – grūmojo R. Čekutis.
Nors visuotinai yra žinoma, kad Antrojo pasaulinio karo metais Lietuvoje buvo išžudyta absoliuti dauguma žydų (apie 250 tūkstančių žmonių) R. Čekutis, dirbantis Genocido ir rezistencijos tyrimų centre, nebuvo linkęs sureikšminti šio fakto.
"Įvairios tautos nukentėjo, ir rusai, ir lietuviai. Ir ukrainiečiai. Štai Ruandoj kiek tutsių buvo išžudyta. Juk neskaičiuosime kiek liko gyvų.
Lietuvoje visų žydų neišžudė, liko gyvų. Svarbu, kad liko. Ar ne taip?
O štai Estijoje visi buvo sunaikinti", – mįslingai pastebėjo pašnekovas.
APPENDIX 9
TRANSLATION IN ENGLISH
Translation from:
http://www.diena.lt/naujienos/miestas/svastikos-ant-tauro-kalnotolerantisko-
jaunimo-ranku-darbas-347115
--------------------------------------------------------------------------------------------
Swastikas on Tauro Hill the Handiwork of Tolerant Youth?
by Andrejus Žukovskis
24 April 2011
In Vilnius the Union of Tolerant Youth and in Kaunas the Jewish community both celebrated Hitler's 122nd birthday this year. At least, that's what Ričardas Čekutis [employed as a PR specialist at the Genocide Research Center – Trans.] , the head of the Lithuanian Patriotic Center, firmly believes. He thinks it was these organizations who hoisted flags withswastikas and painted over walls with inscriptions of ―Juden raus‖ . The man says he himself hasn't sewn any swastika flags at home, but declined to say how he did celebrate Hitler's birthday.
Threatens to cut off hands
When he walks through the city Ričardas Čekutis likes to wear a shirt portraying a German soldier looking at Vilnius during World War II. He quickly declares all other expressions of Nazism to be provocations [of others]. He manages to retain self-control while speaking, but has a harder time controlling his own rhetoric, which more resembles threats than the thoughts of a tranquil person.
―I think the Jews themselves organize all these provocations. The LithuanianPolish Electoral Action [Party], who despise other nationalities, should also be outlawed,‖ the chairman of the Lithuanian Patriotic Center explainedemotionally, sitting on a bench next to the Museum of Genocide Victims [a genocide museum that doesn't mention the Holocaust and whose parent organization employs Čekutis as a senior public relations specialist –Trans.].
The man who now calls himself a journalist, sometimes a politician, blames representatives of ethnic minorities and human rights organizations for escalating the neo-Nazi problem. He says he believes representatives of the Tolerant Youth organization hoisted the flags with swastikas, attempting to discredit the good name of nationalists and all nationalist patriotic forces.
Čekutis said threateningly that it wouldn't end well.
―Not only did we not run up those flags, but we will cut off the hands of those who did this,‖ the head of the center said, and quickly explained whose hands should be severed: ―Tolerasts [=tolerant + pedarast, Lithuanian neo-Nazi lingo] hoisted the flags. Do they deny it? They're lying.‖
Remembers Tutsis but not Jews
He also called Jews liars who, he said, are constantly squabbling and bickering among themselves, make a business out of the Holocaust and are always wailing how they are the targets of complaints. He called these actions by Jews ―playing with matches on top of a barrel of gunpowder.‖
―The nerves of the citizens might not hold up, and then blood will be spilled.
After that it will be hard to stop. It's just a matter of the formation of a critical mass. If the government doesn't do something, the citizens will,‖
Čekutis threatened.
Although it is universally known that the absolute majority of Jews were murdered in Lithuania during World War II (about 250,000 people), Čekutis, who works at the Center for the Study of Genocide and Resistance, wasn't prepared to grant significance to this fact.
―Different ethnic groups suffered, Russians and Lithuanians. And Ukrainians. Look at how many Tutsis were murdered in Rwanda. We can't even calculate how many survived. Not all Jews were murdered in Lithuania,
some were left alive. It's important that they were left alive. Isn't it? But in Estonia all were exterminated,‖ Čekutis noted mysteriously.
------------------------------------------
[Translator's note: Čekutis on his Facebook page makes openly anti-Semitic statements about excluding Jews from state service in Lithuania while he draws a salary from the state—a state which outlaws such public statements of ethnic and religious hate—for doing PR work at a center dedicated to diminishing the importance of the Holocaust and elevating the status of the alleged ―genocide‖ under Soviet rule. He also makes public statements against Roma, gays and lesbians and others. He obviously doesn't believe what he says in this interview about a provocation and is pursuing the tried-and-true Nazi axiom that the public is more likely to believe a big lie than a small one.]
APPENDIX 10
The situation in Hungary
and the Sandor Kepiro Case
By Didier Bertin - April 4, 2011
Society for the Promotion of the European Human Rights Model 
A  Rightist Government was elected in April 2010 which immediately changed the wording of the recent law banning denial of the Holocaust; the word Holocaust was deleted and replace by the world Genocide to including on the same footing of the Holocaust , the suffering incurred under the communist regime. 
This new Government took control of key institutions of the country establishes censorship in a totalitarian way recalling the communist regime and without protest of the European Commission. 
A legal case against a war criminal turned in a surprising and meaningful evolution.
Sandor Kepiro's case. 
At the end of World War I the German and Austro-Hungarian territories were redesigned and Hungarian territory was reduced after its separation from Austria. 
In 1940 Hungary became as in 1914 an ally of Germany and took the opportunity offered by the German invasion of Yugoslavia to take back the Serbian territory named Vojvodina they had lost in 1918. 
It should also be noted that since 1935 Hungary had enacted its own anti-Jewish laws first under the influence of the fascist group named the Arrowed Crosses, which were maintained 1941. 
Hungary had created a Gendarmerie Force inspired of the French Model and 15 officers of the Gendarmerie and regular Army had decided from January 21, 1942 to purify the Vojvodina from the Serbs, Gypsies and Jews starting with the population of the Capital Novi Sad by way of extermination. 
They called the operation Racija, from the word Razzia i.e. Raid in Arabic, was apparently stopped by the military hierarchy but 3309 people including 141 children were already killed. 
One of the main executioners was Lieutenant Sandor Kepiro.
The 15 officers were sentenced to prison in Budapest on January 23, 1944. 
On March 19, 1944, the Germans who feared that Hungary might try to negotiate a separated peace, invaded the country , cancelled the condemnation of the officers and requested a promotion of Lieutenant Sandor Kepiro to the rank of Captain.  
On 4 avril1945, the last German troops defeated by the Red Army left Hungary and Captain Kepiro who was wanted by the Russian authorities fled to Argentina through Austria. Captain Kepiro was convicted twice in absentia for the massacre of Novi Sad. 
The fall of the communist regime allowed Captain Kepiro to return openly in Hungary since 1996 where he was thereafter located by the Simon Wiesenthal Center.
The first trial which was effectively held on October 8, 2010 was against Sandor Kepiro but against Dr. Zuroff of the Simon Wiesenthal Center for libel following a complaint of Sandor Kepiro. Sandor Kepiro made an appeal against a release and the second trial against Dr. Zuroff will take place on April 6, whereas the trial against Sandor Kepiro is scheduled for 5 May 2011. 
CONCLUSION  
The European Commission should have intervened to impose in Hungary the respect of the European rules but did not do until now to our knowledge. 
At the main State members as France could have intervened but did not do it.
Hungary took even Presidency of the European Union from January to June 2011.
This reflects a disintegration of European Ethics.
NB( 8.5.11): Dr Zuroff was eventually released regarding the libel
 ANNEXE 11
After the traditional Nazi parade in Vilnius on March 11, the ritual
 pro-Waffen SS demonstration in Riga on 16 March
with the
 participation of members of the Latvian Parliament
Complement to my note of May 9, 2011
Who are the supporters of the trivial equivalence between Nazism and Communism initiated by the Prague process?
-Those who want the obfuscation of the Holocaust 
-Those who continue to support the former collaboration
This trivial equation between red and brown is yet regarded with respect by the European  Commission. 
On 16 March the memory of Latvian Waffen SS has been honored by approximately 3,000 people including members of the Riga Latvian Parliament. Wreaths were laid in their honor at the Monument to freedom under the protection of the Latvian police official.
This event is recurring and authorized as the "Day of the Legionaries."
Photo showing Dzintars Rasnacs and Raivis Dzintars, members of Parliament at the ceremony in honor of the Waffen SS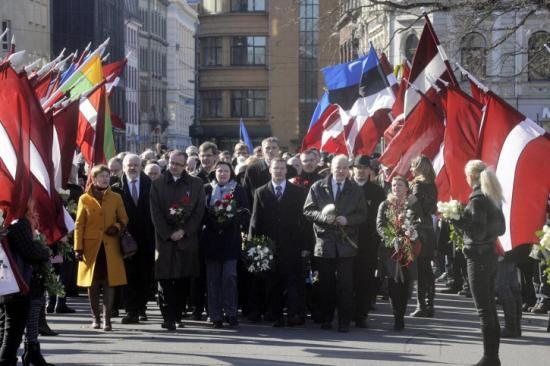 Dzintars Rasnacs

Raivis Dzintars
Under the protection of the Latvian police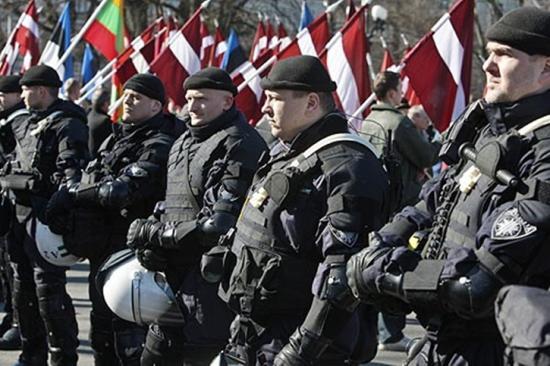 3,000 participants (Riga Population: 700,000)
We invite you to support the statement which will be soon proposed to protect the Ethics of the European Union against the current offensive in Brussels and led by Baltic countries and other Eastern countries members of the European Union. 
Didier BERTIN